*Design by Anna Peck-Maliszewski ("Knittyknitter")

[RAVEL-IT!]

$5 in Paris translated

in Spanish (Courtesy of Natys)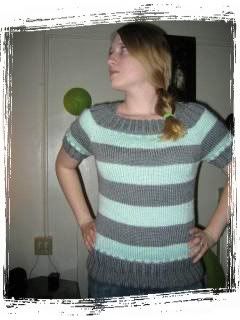 Ever just want to make a quick, cheap, soft and chic top-down raglan tee-shirt sweater? Well say "bonjour!" and dig those Caron Simply Softs out of your stash (that we all know is in there!) and knit one of the simpliest of top-down raglans.
Sizes: Small, Medium & Large
(Medium= 15.5 inches wide; about 22.5 inches tall from neck to bottom)

--Pattern Size shown in "Medium."

Additional photos at bottom of post.
Materials:
Yarn: 1 skein of yarn from"Caron Simply Soft" in pale green, & 1.5-2 skeins of "Caron Simply Soft" in grey, both (slightly) worsted weight.
Needles:
---------(One) 24'' circular needles*: Size US8
---------(Two) 32'' circular needles: Size US9
---------A set of 4 DPN's: Size US8 (optional: also size US7 DPNS)
*I recommend you investing in Knitpick's Options Needle Set, so that you can also use the wires as stitch holders. If you have this already, you can use the 24'' as stitch holders.

Gauge:
"Ribbing:" on size US8: 7 rows=1''
"Stockinette:" on size US9: 5 stitches= 1''; 6 rows=1''


Abbreviations:
Kf&b= Knit into the front and back of that stitch. This is done on the stitches before and after a place marker.
K= knit P=purl St(s)= stitch(es) M=(placement) marker MC=grey CC=pale green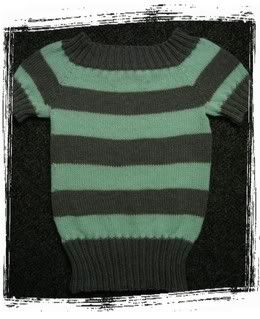 PATTERN DIRECTIONS:
Special note: repeat *to* in the pattern when the (*)'s are used.

Note on stripes:
Each color is knit for 13 rows (besides the beginning, this pattern does not instruct when to change colors, basically because everyone will modify how many increases and such on their own. You must make sure that you are counting 13 rows per color on your own)
Step one--To Begin:
Note: the ribbing is loose-fitting. Use smaller needles or cast on the smaller size stitches in the beginning if you know you have small shoulders. (Do more increase repeats later to make up for the lack of stitches later on.)
1. Cast on with MC: 152 (164)(176) on size US8 circular needles; join the round
2. Divide with "place markers" where the

dashes are

while working the first 2x2 ribbing round:

(NOTE: 1st #=the front; 2nd #=sleeve 1; 3rd #=the back; 4th #=sleeve 2)
------Small: 47-29-47-29
------Medium: 50-32-50-32
------Large: 53-35-53-35
3. Knit in a *K2,P2* ribbing pattern for 2.5 inches
4. Then, attach CC & change your needles to size 9US circular needles (without ribbing)
Step two--Arm Increases:
Round Repeat Instructions:
Round 1: Kf&b, *knit to one stitch before M, Kf&b, slide M, Kf&b,* knit to last stitch, Kf&b in it. (you should now be at the be at the M at the beginning of the round.)
Round 2-3: knit entire round without increasing.
*You will end up doing rounds 1-3 about 7 times total. Larger sizes may need more. The
beauty of it is that you decide when you are done, because everyone is shapped differently in the chest.

**However, keep this in mind: while you have completed the round repeats 5 times, you should take the extra circular needle, put half of your work on it, to put it on and see how close the sweater is to being under your armpit. Does it look like you need more repeats? Less? This is your chance to save yourself from frogging.
***Once you have completed 7 repeats, try it on again. Does it lie just under your armpit?
Saving Sleeve Stitches: [[RE-WORDING EDIT: 09-6-07]]
1. Knit to the 1st M before the sleeve stitches, slide M onto right needle. Slide all of the sleeve stitches onto scrap yarn/stitch holder. Cast on 2(4)(6) onto the right needle, then slide the 2nd sleeve M onto the right needle and knit to the next M (before the next sleeve stitches). Slide M, slide sleeve stitches onto scrap yarn/stitch holder, cast on 2(4)(6) onto the right needle, slide the 2nd M onto right needle.

Step three--The Main Body:
-Knit straight in the round for 11-13 inches (you must end in CC).



Optional Side Shaping:

not done in original pattern, but here for your guidance. Not an actual pattern...just use as needed.
-To begin: place a marker half way among your total stitches (The waist sides= "side marker"). The beginning of the round marker is also a "side marker."

Decreasing stitches for a more natural waist: Beginning 3" below the underarm, repeat decrease rounds every 5 rounds, 4 times.
-k1, ssk, work in the round as established to 3 stitches before "side marker," k2tog, k1, sl pm, k1, ssk, knit until 3 stitches before "beginning of round marker" (that's the second "side marker"), k2tog, k1.

Note: Try on the sweater as you go. Everyone's body is shaped differently; be the judge of what you need more or less of.

Increasing stitches to widen for hips:
k1, m1, work to 1 stitch before side marker, m1, k1, sl m, k1, m1, work to 1 st before "beginning of round marker," m1, k1.
**Repeat increase row every 5 rows 4 times**


Step four--Bottom Ribbing:
1. Using MC, do a *K2,P2* ribbing for 5 inches, BO.
Step five--The Sleeves: (Make Two)
1. Along the gap under the saved sleeve stiches, pick up: 11 stitches using CC (or finish up the MC, if you had another round or two to go)
2. Put new stitches, and saved sleeve stiches evenly onto 3 DPNs; join the round. (Place a marker to designate the beginning of the round.) Make sure you have a multiple of 4! If for some reason you don't, just add a stitch or two in the gap area until it is a multiple of 4.
3. Do about 7 rounds with CC, switch to MC.
4. With MC, do a *K2,P2* ribbing for 1 1/2 inches with size US7 or US8.
5. BO loosely.
Step Six--Finishing Touches:
1. Weave in all threads
2. Wear it with pride!
Additional Photos:
Yeah I need to do crunches.. this view is for the "off-the-shoulders" look.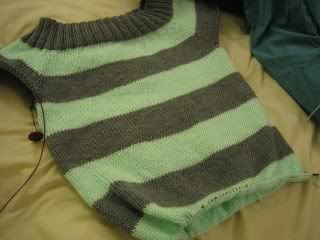 Please do not copy to sell this pattern or finished products from it.
This free pattern was distributed by Anna Peck-Maliszewski at:
http:///www.knitting-up-a-storm.blogspot.com

If you have any questions or concerns, contact me via the comment page below or email me at:
knittingupastorm@gmail.com
.