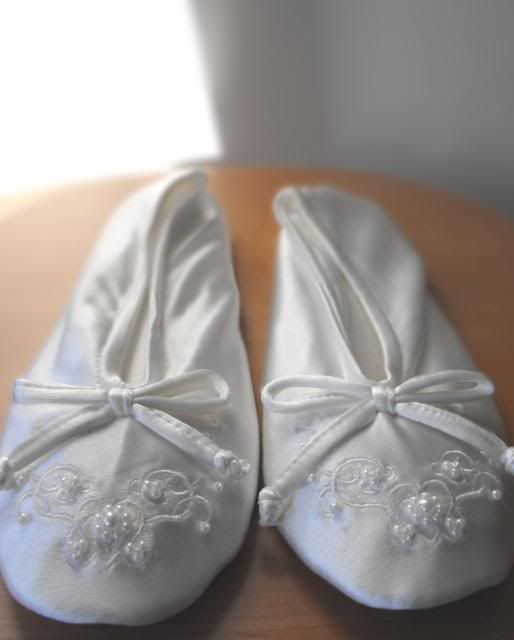 Almost under 5.5 months, dudes. Last week, I headed to David's Bridal to find my bride's maids dresses. I did find a few styles that I like, but I was thrilled when I found out that they had their Bridal Slippers in stock. Aren't they gorgeous? Not only will I have the most comfortable footwear that day, but they will match my dress beautifully.
I spent the better part of yesterday morning making Apple Turnovers. This time, they came out delicate and flaky. I enjoyed a pipping-hot brew of Caribou coffee with my own piece. Too bad they didn't last long with my family. I guess I'll have to make more.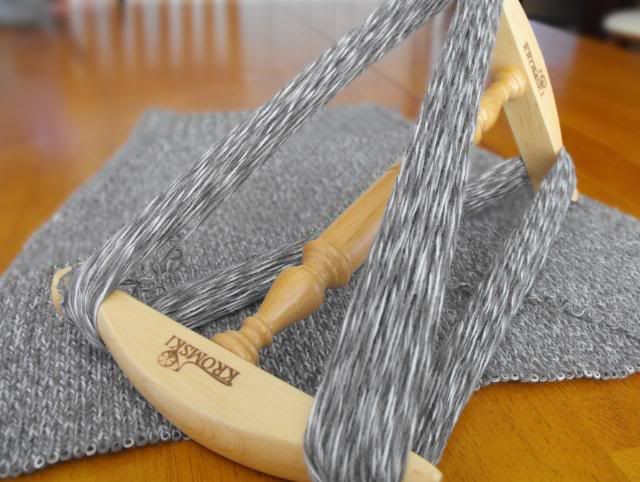 I was
inspired
by my blogger friend
Cassie
to repurpose yarn using thrift-shop finds. Well, my buys gave me a bit of a head-ache, but I managed to unravel both of the sleeves of one of the sweaters I bought. I'm in love with my Kromski niddy noddy. I matches my Ashford spinning wheel perfectly, and it feels like it was made very well. The sleeves gave me about 2.2 oz of fiber. Each. (Yeah.) I'll have to do the body of the sweater in batches because I estimate each side to have about 6 oz.
After I slipped the fiber off of the niddy noddy, it looked like a wet poodle. After I finish up unraveling the rest of the sweater, I'll wash it in really a concentrated detergent bath. Wherever these articles of clothing were stored, they are flaring up my allergies. And I usually don't have allergies. I'm still pondering what I should do with these skeins. It's about fingering weight.
You can probably tell that I haven't been keeping up with my photo editing, because I worked on this spinning like a week and a half or more ago. It's part of my plan to spin & sell later on in my shop. I'm also working on knitting up items to sell as well. More info to follow on those plans.
I've got some more updates on some real knits. Stay in touch.