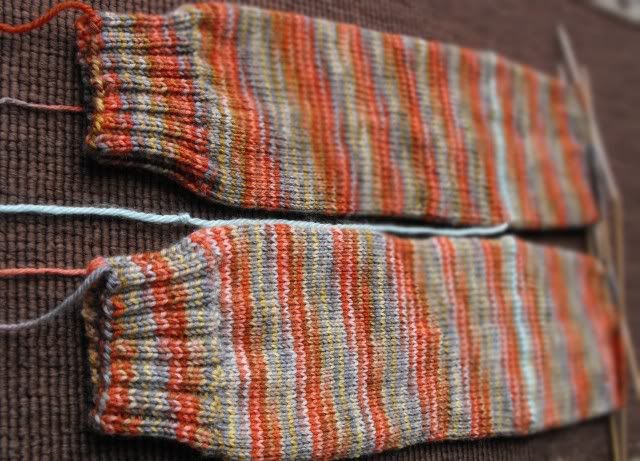 My stockinette socks in my "Butterfly" Colorway have been laying around untouched for quite some time, so I decided to give it a good dose of attention by letting it become a guinea-pig to my first "afterthought heel," as well as my first 'go' at the "Star Toe" decrease method. I'm super excited to knit these up, because I really wanna get my hands on those toes, and that heel as quickly as possible.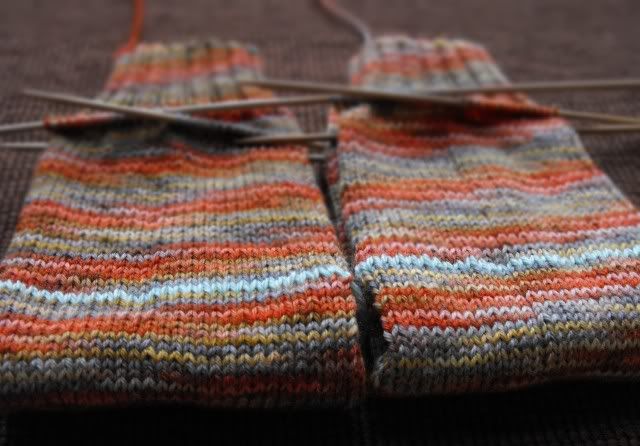 Anyways, I'm getting a little off track here. See that baby minty-green? That's the waste yarn just waiting to release those wonderful stitches that will make sock-knitting all the more wonderful. It sings praises of laziness, pizazz, and just plain convenience. Ok, let me give you some scenarios so you catch my drift:
SCENARIO 1: your trudging through your cable/lace work. You're really hooked on that pattern...cause you're finally getting it down-pat. And a good 4, 5, 6 inches of leg work, you're like, "oh man, now I have to set aside the pattern, knit a 2.5'' heel, turn the heel (I still have to crack out my generic pattern to remember whether it's 7 or 8 knit stitches after the purl row), deal with picking up stitches on the sides, and working the gusset decreases until f-i-n-a-l-l-y I can get back to the pattern, figure out where I left off (or where I set the pattern and cable needles down at), and try to get into the cable groove.
SCENARIO 2: if you're like me, even doing the heel while doing the whole sock in stockinette stitch is still an inconvenience, and follows almost the same grunts from scenario 1.
SCENARIO 3: Short-row heels aren't that much fun. Plus there's a lot more "technicalities," imo.
SCENARIO 4: (the last one, I promise!) You're at the movies, or somewhere away from home, and you're knitting your sock in stockinette because you don't have to look down too much, and you finally make it to the heel. Are you honestly telling me that you can fiddle with the heel steps in the dark? If you can, can I please borrow you're super-powers?

Now let's talk about the Afterthought heel before you're bored to tears.
Pros: it's convenient, it's practical (you can replace it easily), it's "tidier" than a short-row heel and you can use this method to use a contrasting color to accentuate your nice heel, it looks great with variegated yarns, plus it's gosh-darn interesting, if you'd ask me. Damn it, I'm sounding too much like Alton Brown now. Ignore that last part.
How do you do it? In a nutshell, when it's time to knit the heel, you knit your 30, 32, etc, heel stitches onto waste yarn, and then continue knitting the rest of the sock with your "live yarn" as nothing ever happened. It's like, la-di-da-di-da....I just skipped the heel! When you're done with the sock, then you go back, pull out the waste yarn, put those stitches onto your needles and decrease the same way you would for the "Basic Round Toe." That's it. Plus, it's pretty....

A tutorial on how to do the Afterthought Heel:
Special note: I realize that in Part 1, my work is inside-out in the photos. Having the knitting this way was more photogenic, and provided a better view of my work as a one-handed camerawoman. These pictures will not alter the results of your own heel.

Part 1: the set-up
Step 1: knit up to the point where you would place your heel. A heel traditionally uses 50% of your total stitches. If that means that if you're in the middle of the sock, like me, just let go of the working yarn and proceed to Step 2. Really, just let go...
(I set up my needles like 50%-25%-25%, so my two last needles are where my heel should be. Hint: I like to keep any hint or trace of laddering mostly on the back of the leg. )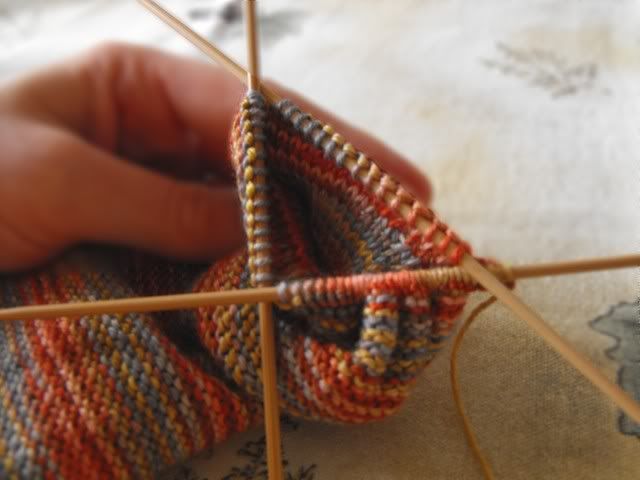 Step 2: You'll need about a yard of waste yarn in a contrasting color for each sock (with the same thickness, or a tiny bit thicker yarn than your sock yarn). Insert your free dpn into the left needle, where you would start the heel, and place the waste yarn over the right dpn. I just fold the yarn and place it on the needle. Now you are ready to start knitting with the waste yarn. Note: do not attach the waste yarn by tying a knot.
Step 3:
push the right needle into the first loop on the left dpn (as if to knit, from back to front), and continue knitting along all of your heel stitches with the longer end of your waste yarn.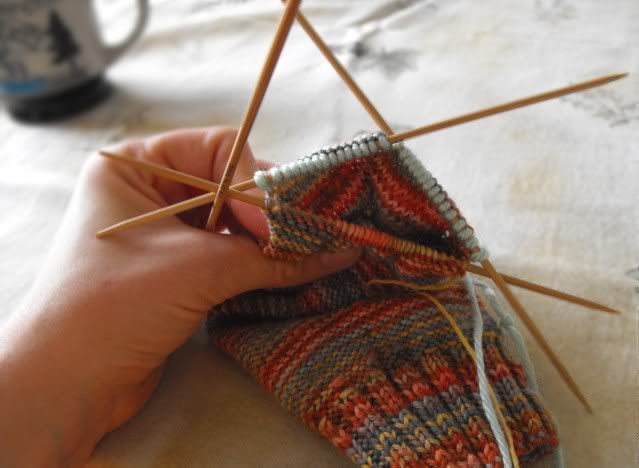 Step 4: Now that you're done knitting your heel stitches with the waste yarn, pick up the working yarn again, and knit over those heel stitches either by continuing your current sock pattern, or by just knitting if you're doing stockinette like me. Example: let's say that you finished rd 30 of your sock's cable pattern right before you did Step 1, Step 4 would want you to continue to rd 31, like nothing ever happened. (Just making sure it's all clear.)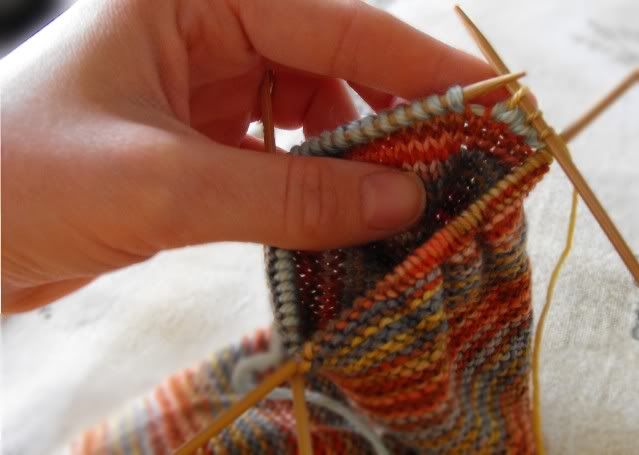 Step 5:
continue on with your merry knitting way, doing whatever you need to do until you have decreased the toes and grafted the remaining toe stitches together.
Note:
if you measure your foot from the edge of your heel until your total desired sock length, you should take that number, minus somewhere around
4-5
inches(that's to account for
2.5-3
inches for the heel later and
1.5-2
inches for the toe decreases), and that's about how long you should knit your sock body before your toe decreases. Make sure you factor in how many stitches you're working with, and what size needles (if it's a lot different than 64sts on size 2US, you might want to do the heel before you do the toes, with maybe the center or outer strand of your yarn "cake," to see if the heel is around 2.5-3 inches. If not, try the sock on and see how many inches you really need to knit before doing the toe decreases).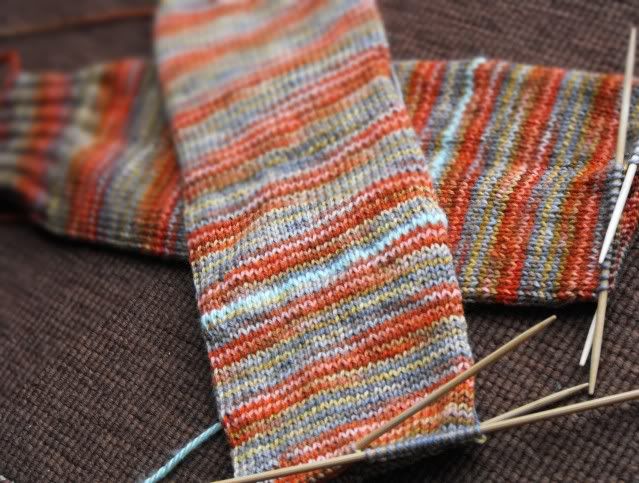 Part 2: Releasing the "live stitches"
Step 1: it's time to unravel those saved stitches, now that you're done knitting the rest of the sock. whether or not your strand is hanging out on the "right side" of your work, or some how found it's way hanging out on the "wrong side," pick the first part of the stitch on the right side of the sock, and pull the yarn strand out.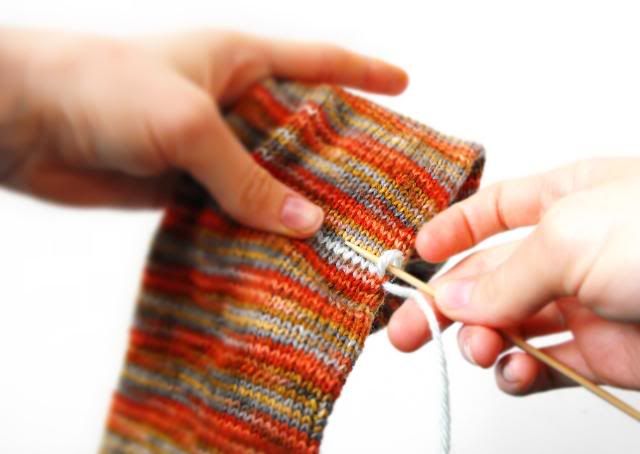 Step 2:
Now pick at the second loop part from your waste yarn "V" stitch, and pull the strand out.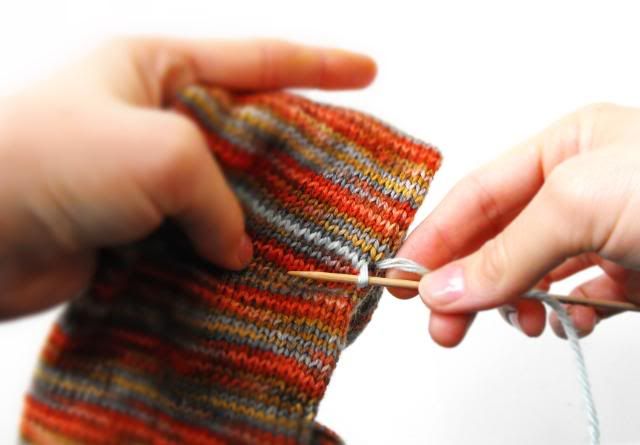 Step 3:
keep following steps 1&2, pulling out the waste yarn stitches, until you have several unwrapped "live" stitches released from the top & bottom portion that the waste yarn contained.
Step 4:
the "safe" way to go about this process of releasing these "live" stitches is to release a few, then immediately put them onto 2 dpns, one for the top and one for the bottom stitches.
It is best to put them onto your needles uniformly. That way, if you slid them on wrong, you can knit into the back of all of the stitches on that needle.
Step 5: Continue releasing all of the "live" stitches and putting them onto their proper needles. Once you have reached the end, count the stitches. They should be equal in number, and each having as many heel stitches as your pattern calls for. Example: if you want to work with 32 heel stitches, make sure the top and bottom needles both have 32 stitches each.
Part 3: Working the heel decreases
Step 1: Divide your heel stitches evenly among 3 or 4 dpns, depending on your preference (both needle preferences will have instructions for heel decreases.)
3 NEEDLES: This requires a 50%-25%-25% stitch division among your needles, and the use of a "marker." If you prefer to work only with 3 dpns (like me!), arrange your needles so that the bottom part of the heel ("bottom" relative to the leg OR toes) has two needles (25% each of those total stitches) and the top part of the heel has one needle containing 50% of the total heel stitches, or simple all the stitches originally on it, with a marker in between half of the stitches. Example: If working with a "32st heel," the bottom dpns get 16 each, and the top needle has 32 sts total, but needs a marker after stitch 16.
Needle Numbers: The bottom left needle is needle #1, the top left needle is #2, and the bottom right needle is #3.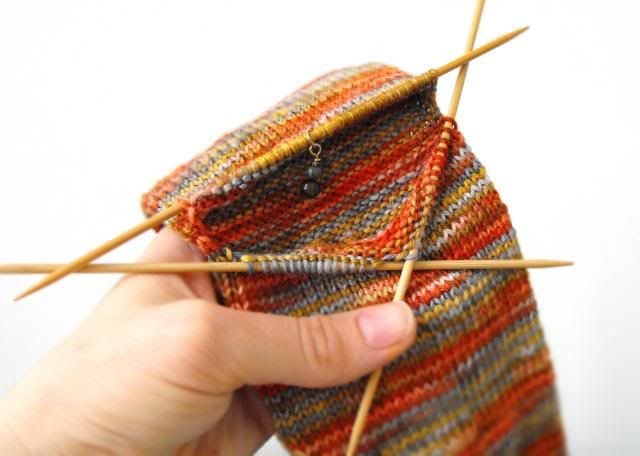 4 NEEDLES: divide your stitches up completely. Each needle will have 25% each of the total heel stitches. This means that you will just slide half from both the top & bottom of the heel parts on two two different needles. Use a saftey pin or place marker to indicate needle #1: between the two bottom stitches (where my thumb is).
Needle Numbers: The bottom left needle is needle #1, the top left needle is #2, the top right needle is #3 and the bottom right needle is #4.

Step 2: Attach the yarn before Needle 1, and work the decrease rounds until you have 5 sts left, or 20 stitches total. End with one last knit round.
For 3 needles:
Rd 1: All needles: knit straight.
Rd 2: Needle 1: knit to last 3sts; k2tog, k1. Needle 2: k1, sl1, k1, psso, knit to the last 3sts; k2tog, k1. Needle 3: K1, sl1, k1, psso, knit to the end.


For 4 needles:
Rd 1: All needles: knit straight.
Rd 2: Needle 1: knit to last 3sts; k2tog, k1. Needle 2: k1, sl1, k1, psso, knit to the end. Needle 3: knit to the last 3sts; k2tog, k1. Needle 4: K1, sl1, k1, psso, knit to the end.


Trouble-shooting:

Closing the gap between the needles: In part 3's step 5, you'll notice that you will have a small gap on the left and right sides of your work after releasing your "live stitches." To avoid big gaping holes at the heel decreases, use the stitches IN THE GAP AREA to simply pick up and k2tog with the last stitch from Needle 1, and also pick up and ssk with the first stitch from Needle 2, as well as picking up and k2tog with the last stitch of Needle 2 (for the "3 dpn" method) or Needle 3 (for the "4 dpn" method), as well as k2tog using the first stitch from Needle 3 (for the "3 dpn" method) or Needle 4 (for the "4 dpn" method).
Feeling a bit snug? Try on your sock before completing all of the decreases. It's good to do this when you only have several more increases left. If you fear that your heel will not fit, you can slow down the decrease process a bit by adding one more "knit straight" round before the last few decreases. Example: *knit 2 rounds straight, then do a decrease round.* I recommend that you keep trying on the sock though, if you do this. You might not need to slow down the decrease process that much!
And voila! You have a beautiful heel that looks just like the "Basic Toe Decrease." Notice how it goes great with variegated yarns? Neat, huh? The variegated green heel swatch was from my "Irish Spring" colorway. It makes me want to knit up the socks now.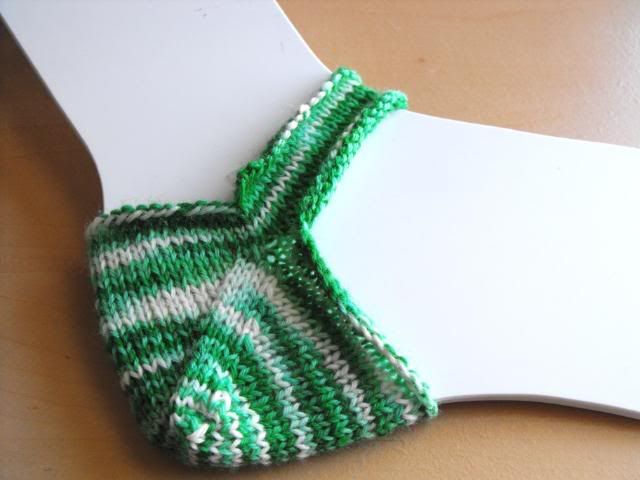 I bid you good knits! Have fun knitting up Afterthought Heels! I hope this tutorial helps you out!