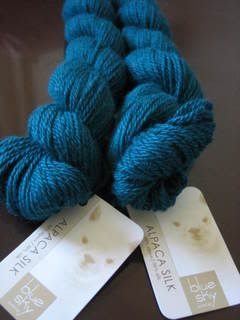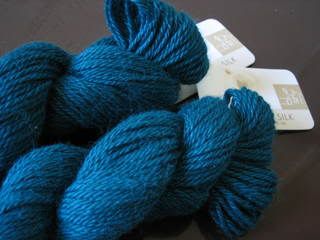 Update! I just got back from the brand-new LYS! Can you believe that it's only 3-4 blocks away!! Now, if that isn't dangerous...I don't know what is!
The "Blue Sky Apacas" Skein is actually turquois, and the fiber content is 50% alpaca & 50% silk, which in my book is 100% pure joy to knit with. It will turn into a light spring hat or beret. I even got a free pin and a coupon for a free cookie upon the completion of my WIP. Whoot Whoot.
Hufflepuff/hawkeye socks
Originally uploaded by Knittyknitter
Well, once in a while we learn to do something new. I fully completed one sock using a short-row heel method. That might have been on my resolutions list.

Pattern: mod's of my"LT Rib Socks"
Yarn: striping in black & gold
Neeldes: size 3 US (next time, just #2's)

I just also finished Albom's Five People you Meet in Heaven just a moment ago. The book was interesting...unique in idea and construction. It was "different" for me to read about his various birthdays as a "intermission" to some of the chapters. It's a short book, and you should read it sometime in the future if you haven't already. It was on my "must read before I die" list. The next book, For One More Day is also on the list...and I'm reading it next. I'm still trying to compile a worthy list of other books. Any suggestions?
Did you know that Lion brand is coming out with "Sock-ease" in the future? The Yarn Halot got some free samples, and it looks great! It's the standard wool & nylon blend, as well as a aloe vera finish. Sounds pretty sweet...and good for a budget like mine!