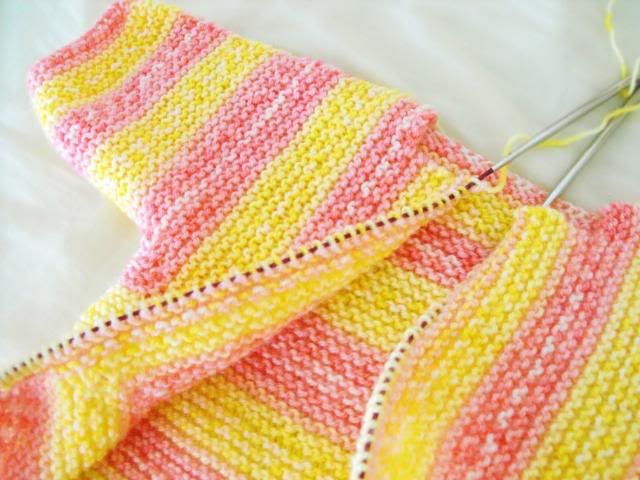 Have I ever mentioned how incredible Elizabeth Zimmerman was, and still is to this day? She's not only famous for her pithy patterns, but for her pure genious designing, creating on whim 3D knits that baffles 21st century knitters to this day. And she didn't even have the internet. Or an abundance of knitting guides, knitting patterns and the like, as us lucky knitters do. Sure, there are loads of fabulous designers out there. But take a look at one of EZ's most popular and creative designs: The Baby Surprise Jacket.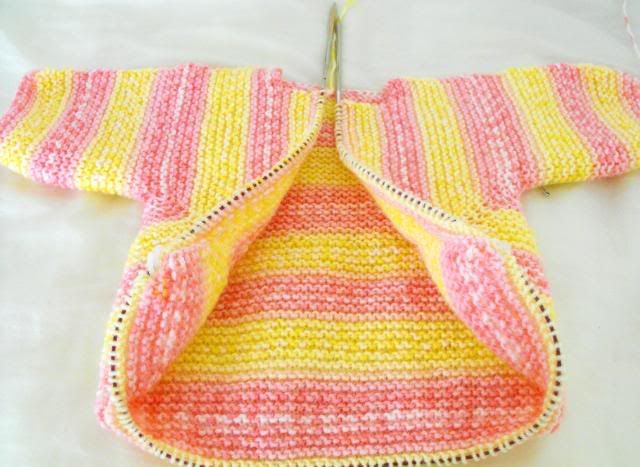 Sure, It looks all innocent here, like I knit the back, knit the front sideways, and then knit the sleeves. Like I'm now at the end of the sweater, picking up stitches and knitting the button holes.
Look again, my friends. You're in for a "surprise."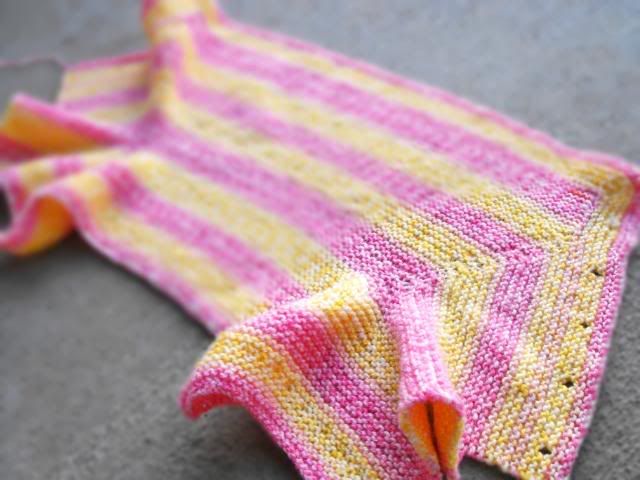 If you haven't grazed upon this pattern already, this sweater is knit as one peice. That means that there is decreasing for half of the jacket's body, which in turn is used for the sleeves that is folded a particular way ("miraculously" is probably a better word-choice). Then, the rest of the body is knit increasingly, while a portion thereafter is knit straight...then picking up several stitches is in order, as well as adding some button holes, and presto-chango! You have a jacket!

Pattern: Elizabeth Zimmerman's "Baby Surprise Jacket"
Yarn: Bernat's Baby Jacquards in "Berries & Cream"
Gauge: 6sts=1''
Needles: Size 7, with Knitpicks' interchangeable needles
Project: June 9-14, 2009
I worked on a good chunk of this baby jacket while in a long car ride to a goodbye party for a college friend while listening to the audiobook Garlic and Sapphires, by Ruth Reichl. It was pretty good, although on the way back, after plenty of green apple vodka drinks, it put me to sleep, and I had to listen to a good bit of the second disc again. Today, I finished reading the book and knitting this baby jacket, and I'm off to watch another "The Next Food Network Star" episode TiVo. Stay posted for the completed BSJ. All I have to do is sew up the arms and find 5 cute buttons worthy of this project.